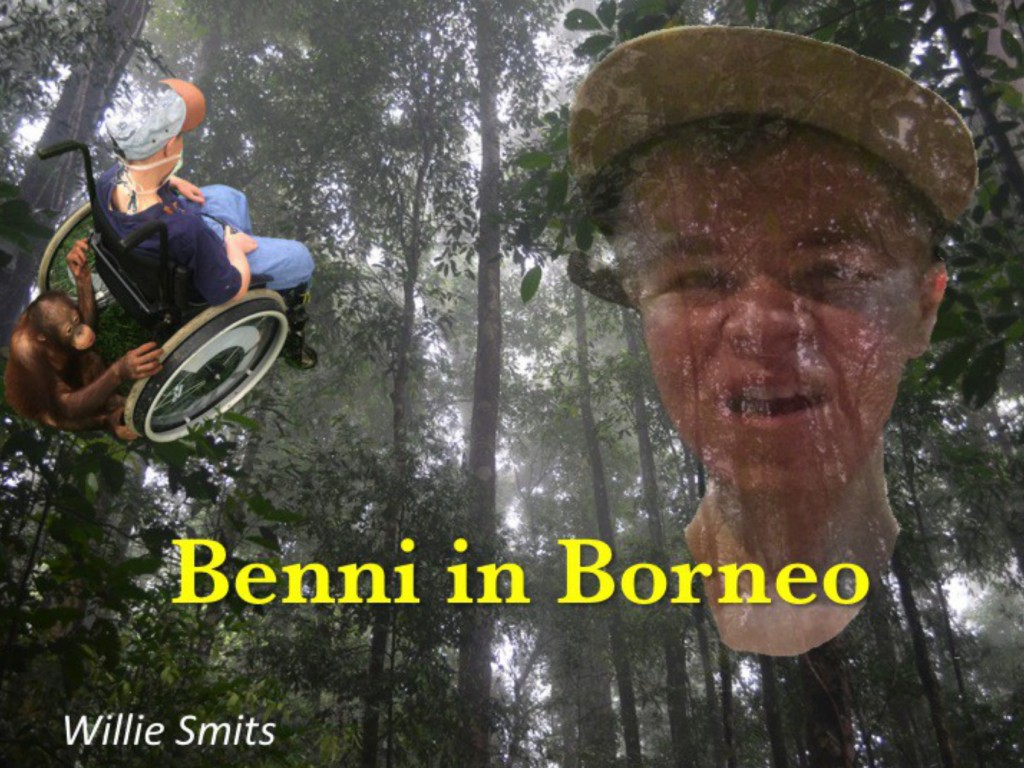 Benni wartet schon ungeduldig auf die Nachricht von Willie, wann dieser ihn bei sich zu Hause im idyllischen Dorf (Niederbreitbach) besuchen wird. Dann soll auch über weitere Reisepläne und Projekte gesprochen werden. Zwischendurch hat Willie seine Erinnerungen an die gemeinsame Zeit mit Benni fest gehalten. Danke Willie. 
Benni sits in a wheelchair. He has Duchenne Muscular Dystrophy. His muscles degrade over time due to a genetic mutation. Benni needs a breathing apparatus at night and during the day he uses a special breathing technique using his tongue, called Glossopharyngeal Breathing, to help him get more air into his lungs. Benni also loves orangutans and that is why he is here with us in Borneo right now. And because Dr. Gerti Schuster asked me if I would be willing to talk to his parents and brother who do everything for Benni. It took the family four flights just to get here to the heart Borneo all the way from Germany.
Benni's father Klaus took early retirement to have more time with Benni and to grow healthy food in his garden. Benni spends many hours a day on the Internet and I was amazed at how many orangutans in so many zoos around the world he got to know by name and all their tricks. He says he likes orangutans because they are interesting and do all kinds of crazy stuff! Benni spends hours watching orangutans in zoos in Germany too. And he has some strong opinions on some of these zoos and the wellbeing of the orangutans there!
During one of the zoo visits father Klaus decided to try what Benni was doing and after watching them deep into their eyes, he too fell in love with the orangutans. Then Benni showed him on his computer what was happening to the habitat of the orangutans in Indonesia and told his father "come on let's do something about it!" That challenge became project Benni and was the basis of what the family calls "Team Benni". The team consists of the extended Over family but also others like Sister Marlene, who is in a nearby nunnery, and the various medical people that support Benni with his condition. All of them love Benni and his antics.
Though Benni is completely dependent upon other people, except for a tiny bit of use of his hands although he cannot move his arms, Benni is still able to draw through great effort. Together with his caregivers Benny made the colorful drawings that are used in the film that was made about Henry, an orangutan in Nyaru Menteng that Benni adopted with the organization BOS that I founded 25 years ago. When I met the Over family in Jakarta at the airport Benny gave me this picture over dinner. I hardly dared ask but with a smile he confirmed that it was me in the picture.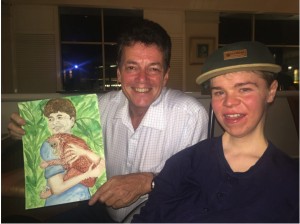 Benni has visited many zoos but his greatest wish was to see orangutans in the trees in Indonesia. And this week that wish came true. It was not easy though… I felt sorry for Benni as he had to be carried by his parents into and out of these little planes with difficult steep ladders. No jets in the heart of Borneo and no wheelchair access. But Benni took it all in stride for he was completely focused on the adventure ahead and the meetings with his red haired friends!
Landing in Palangkaraya, a week later in the journey, with the propeller plane and getting Benni in his wheelchair in the simmering heat of Central Kalimantan.
We flew from Jakarta to Pontianak, which is located exactly on the equator. Here we had to change planes to continue the travel to Sintang some 450 kilometers to the east of Pontianak. But a rainstorm delayed our departure considerably. Fortunately the weather improved and we made it safely to Sintang.
When we arrived Alexandra and the team were already waiting to take us to their hotel. Marcy Cravat and her camera team were waiting for us to arrive in Sintang while I was meeting Benni and his family in Jakarta. They are here to make a documentary about soil and my work with biochar and reforestation that has positive climate effects. The first evening we had a warm welcome and nice evening meal at the Sintang Orangutan Center Quarantine, which is located on the terrain of the Kobus Foundation. The director, Father Jacques Maessen was already awaiting us.
The next day early Benni and his team arrived back at the center and we went around the orangutan facilities. Benni had a tear in his eyes when he watched his first orangutan, Chris, a female baby that was confiscated just days before and whom I also met for the first time in the quarantine department. Within minutes the timid orangutan came to us behind the bars and looked us deep in our eyes and probably our souls. Then Benni could watch the babies in one of the large socialization cages drink milk and play around. And a lot of the babies came to have a look at Benni as well!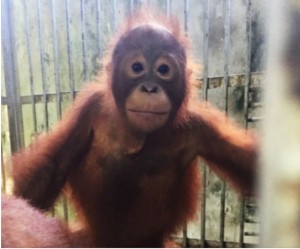 The biggest event was still to happen though when Benni, seated in his wheelchair in the garden of Father Jacques was brought eye to eye with his two adopted girls, Sally and Maya. These two never let go of each other, and when Sally, the braver one of the two, does now and then go of by herself Maya screams her head off. These Siamese like twins were inseparable so Benni could only watch them play near him. But then came Boy… And Boy looked at Benni and took his hand and looked him deep into the eyes… And with his thumb Benni stroke the hand of Boy with this beautiful happy expression still visible in his eyes above his mask.
Boy had just cleared quarantine and had been for five years living with a family that toilet trained him, gave him human food only and dressed him up like a child in the family. Boy still has to learn being an orangutan and he still longs for people to take care of him. So he showed no fear whatsoever for Benni and even climbed in his lap and looked at Benni's eyes from inches away. His parents cried and hugged seeing Benni so overjoyed. A lifetime wish and dream fulfilled for this very sick and brave boy. Later a small female baby orangutan named Mona stole his heart and the family decided that she should also be adopted for Benni! Beneath is a picture of lovely Mona sitting at ease in Benni's lap.
To the right: Benni Over and Mona. This picture does speak a thousand words! This was more than Benni could ever have hoped for and the fulfillment of his life's dream.
The next day a spectacular reception awaited Benni at the nearby high school. Benni remarked "Owai, I did not book that!". There were many more "Owai!" exclamations in this week of Benni's adventures in the heart of Borneo. He even came along on a speedboat, slept in a longhouse in a Dayak village that could only be reached over a feeble improvised hang bridge because the river had swept away the bridge, locking up cars on the other side.
I just show some pictures beneath that tell it better than I can in words, showing things Benni did in Sintang and surroundings.

Benni Over and his family. Brother Florian, mother Connie, Benni and father Klaus. On their website there are hundreds of pictures showing their amazing Borneo adventures.
Benni truly impressed me. Although confined to the wheelchair and not able to look sideways very far he still kept track of everything happening around him. When I left him for a few minutes during dinner he asked me if I had sent a message to my wife. And he was spot on! No one knew or could have seen me do that, but he deducted it! And the stories of the orangutans at my stations in Sintang and Nyaru Menteng, he knew more about some of them than I did! And despite having fear of heights he let us carry him up steep stairs without railing and crossing board walks to boats. And getting to the orangutan clinic in the Tembak village was very difficult and a bumpy ride for more than 3 hours, but he did not mind. Respect for Benni! And how he answered the questions of the many school children as well as adults, short but brilliant! Yes, Benni stole the hearts of many Dayaks.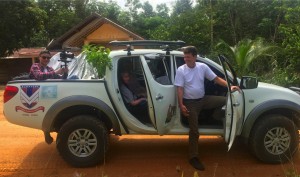 I recently watched the movie "The theory of everything" and I felt how much can go on inside a mind 'locked in' within a body that fails and how much that mind can still achieve. Benni is very much like that, so much more as what we can see from the outside and see what Team Benni was capable off! Orangutans also have a lot going on inside their heads that we cannot easily see. But we know how altruistic they can be and how they can trust again people that belong to the species that killed their mothers. Bridges of the heart or soul or mind or whatever you want to call it, but that is where the real value is. Benni has built bridges by crossing ones that seemed impassible.
After a week in Sintang we jointly flew to Palangkaraya, in Central Kalimantan, where a welcoming committee of BOS was waiting for Benni, complete with a film team to record his visit and his meeting with Henry, the first orangutan that Benni adopted in Nyaru Menteng and the main actor in the film "Henry saves the rainforest" that was made with Benni's drawings. After the welcome dinner in town I went off to Nyaru Menteng. The next morning I spent going around all the facilities and visiting all the orangutans together with Odom, with whom I set up the Nyaru Menteng Center many years ago.
Later that afternoon Benni arrived at the center and it was time for me to said goodbye to my new friend and move on to East Kalimantan where more red haired friends are awaiting me. But that is another story!
Willie Smits, Borneo, May 2016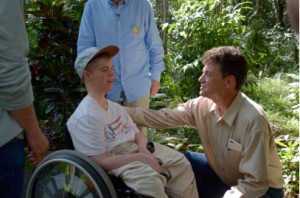 Willie Smits: Founder Borneo Orangutan Survival Foundation (Indonesia) – Founder Masarang Foundation Ashoka Fellow
Dr. Willie Smits is a Dutch-born Indonesian environmentalist. He studied tropical forestry, tropical soil science and genetics for his MSc in The Netherlands and also obtained his doctorate in Wageningen at the Agricultural University.
His focus is on the long-term security and sustainability of the world's environment, a vision he recently presented as an official member of the Indonesian delegation at the COP21 meeting Paris in December 2016. In 2001, Dr. Smits founded the Masarang Foundation, dedicated to preserving nature through the empowerment of local people. His work on the optimal utilization of the sugar palms had provided as an environmentally-friendly
alternative to the oil palm plantations that have had such detrimental impact on the environment, local people and wildlife. Since 2012, Dr. Smits has been the director of an almost half-million acre reforestation concession in East-Kalimantan, developing systems for mixed reforestation, the use of biochar, water and nutrient optimization and local job creation. The site was recently expanded to nearly two million acres. For his work, Dr. Smits has been knighted in The Netherlands for his conservation efforts; received the prestigious "Satya Lencana Pembangunan" award from the president of Indonesia. His efforts have been featured in dozens of documentaries and hundreds of publications. He has lectured at universities and conferences, including TED, all over the world.
"There is still time and there are still opportunities to clear up the mess man has created."